Varner family donates to Pirates Unite campaign
Make gift to Support Isley Indoor Performance Center And Golf Programs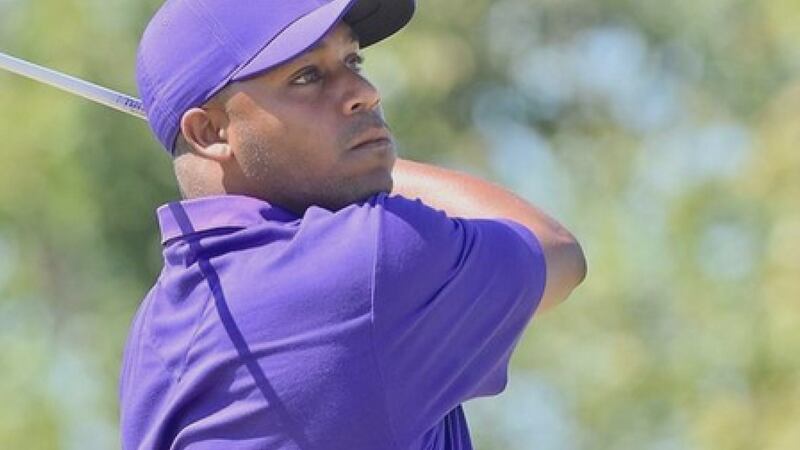 Published: Jun. 13, 2023 at 9:18 AM EDT
GREENVILLE, N.C. (ECU Athletics) – Former East Carolina University Hall of Fame men's golfer Harold Varner III and his wife, Amanda, made a transformational investment to the Pirates Unite Campaign for Comprehensive Excellence, Pirate Club Executive Director Ryan Robinson announced today.
Varner III, a current Pirate Club Executive Committee member, earned his bachelor's degree in business management from East Carolina. Amanda, a former cheerleader at ECU, graduated with a degree in communications.
"Amanda and I are grateful to have the opportunity to give back to a community, school and athletics program that means so much to us," Varner III said. "Being a student-athlete at East Carolina changed the trajectory of my life and helped me prepare for not only a professional golf career but gave both Amanda and I so many mentors and lifelong friendships. The Pirate family is deep and powerful, and we feel it is our responsibility to continue to grow and sustain that connection with former student-athletes."
The Varner's investment will be the lead gift on an expansion of the current men's and women's golf practice facility.
"What an exciting day for Pirate Golf! Harold and Amanda are Pirates. This commitment by the best who has ever worn the Purple and Gold for our men's golf program is truly special," says ECU Men's and Women's Golf Head Coach Kevin Williams, "We are extremely fortunate for this major investment in the total transformation of our practice facility in the area where Harold and his teammates once trained while setting the standard for our program."
A portion of the Varner's gift will support the funding of the proposed Isley Indoor Performance Center located within the current athletic footprint that will benefit all sports programs. Nearly $15 million has been raised for the indoor facility in a little over a year.
"I believe very strongly in the direction in which Jon Gilbert and his administration are leading our athletics department," Varner III said. "From their first days on the job, Jon and Ryan reached out and we have established a tremendous relationship over the past five years. So many individuals that helped forge an incredible student-athlete experience for me remain on campus. There is a great deal of momentum and energy surrounding the Pirates right now, and Amanda, Liam and I are excited about the possibilities that exist moving forward."
Varner III, who was inducted into the ECU Athletics Hall of Fame in 2022, was the first player in program history to be named Conference USA Golfer of the Year (2012). He qualified for three NCAA Regional tournaments during his time in Greenville and was the second player in school history to earn an individual at-large berth. His career in the Purple and Gold included 18 top-10 finishes and two individual medalist performances (2010 Outer Banks Intercollegiate and 2011 Georgia State AutoTrader.com Collegiate Classic).
"This is an exciting day for ECU Athletics and the Pirate Club," ECU Director of Athletics Jon Gilbert said. "We are incredibly thankful to Harold, Amanda and Liam for their investment. Harold and Amanda embrace what it means to be a part of the Pirate family and it just means a little more when former student-athletes return and invest in our future. I am fortunate to call Harold a friend and he really personifies what it means to be a Pirate. He has a profound sense of humility, always putting others first and is passionate about the Purple and Gold. This investment will give our current and future Pirates an edge in maximizing their potential while they are on campus."
A native of Gastonia, NC, Varner III founded the HV3 Foundation in 2019 which provides affordable access to youth in sports. The foundation hosts numerous tournaments across the state for youth. In 2023, the HV3 Foundation partnered with the Central Intercollegiate Athletic Association (CIAA) to be a part of their 59th annual CIAA Men's Golf Conference Championship. For more information about the HV3 Foundation, please visit https://hv3foundation.org/.
Copyright 2023 WITN. All rights reserved.