Teen charged in shooting death of fellow student outside Pittsburgh school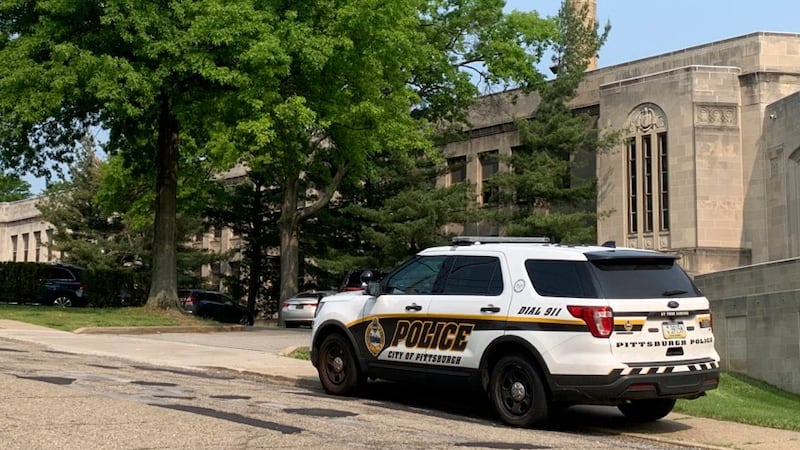 Published: May. 24, 2023 at 11:14 AM EDT
|
Updated: May. 24, 2023 at 7:41 PM EDT
PITTSBURGH (AP) — A 15-year-old student was charged with homicide in the fatal shooting of his 15-year-old schoolmate just outside a school in Pittsburgh shortly before classes were due to start Wednesday morning, police said.
Officers found Derrick Harris just before 7:30 a.m. with gunshot wounds by the front steps of Oliver Citywide Academy, police said. A gunshot detection system indicated 11 rounds had been fired. Major Crimes Commander Richard Ford said Harris was critically injured and rushed to a hospital, where he died.
The other 15-year-old student, who was seen by an officer running from the school with a gun, was arrested and a weapon recovered, Ford said. The student was identified as Jaymier Perry in a court docket and Jamier Perry in a police statement. He was charged with criminal homicide, possession of a firearm by a minor and carrying a firearm without a license. Perry was taken to the county jail, according to police. Court records didn't list a defense attorney.
Oliver Citywide Academy is a full-time special education center serving grades 3-12, according to the city school district's website. It wasn't immediately clear what prompted the shooting.
Most students were still on their way to the school when the shooting happened, and buses were rerouted to another school building, according to city spokesperson Maria Montano. Students who were already in the school were kept in the building and classes were canceled for the day.
"We believe, based on the information that we have and the video we've been able to see, that we have the actor in custody and there's no potential threat to the other schools," Ford said.
The city's new police chief, Larry Scirotto, on the job for his first full day following confirmation Tuesday, said at the scene that such violence was "unacceptable."
"The tragedies cannot continue unchecked," Scirotto told WTAE-TV, vowing to work to assure parents that "when they send their kids to school that their kids won't become a victim of gun violence."
Mayor Ed Gainey vowed to help students affected by the shooting and said his administration would connect the family with support services.
"No child should ever have to fear going to school, and no parent should ever worry about their child never coming home," Gainey said.
"We have cultivated a culture of violence and death, celebrated guns, and glorified shooting," he said in a statement. "… We have to cultivate a new culture, create a new path forward for our kids."
The shooting came a little more than a year after another student was gunned down at the same school. Fifteen-year-old Marquis Campbell was killed in January 2022 as he sat in a school van waiting to go home. The alleged shooters — two brothers who Campbell knew from another school — were charged earlier this year with murder and conspiracy.
The shooting also came exactly one year after 19 students and two teachers were gunned down at an elementary school in Uvalde, Texas.
Copyright 2023 The Associated Press. All rights reserved.