Pat McCormick, 4-time Olympic diving champion, dies at 92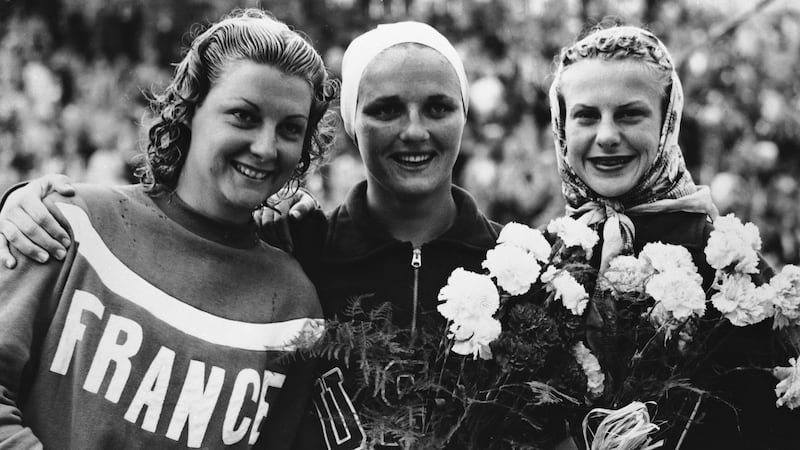 Published: Mar. 10, 2023 at 10:01 PM EST
LOS ANGELES (AP) — Pat McCormick, who became the first diver to sweep the 3-meter and 10-meter events at consecutive Olympics, has died. She was 92.
She died Tuesday of natural causes at an assisted living facility in the Orange County city of Santa Ana, her son, Tim, said Friday.
McCormick won the springboard and platform events at the 1952 Helsinki Games. She accomplished the feat again four years later at the Melbourne Games. Tim McCormick was born just five months before the Olympics in Australia.
Greg Louganis equaled McCormick's accomplishment when he swept the 3-meter and 10-meter titles at the 1984 Los Angeles Olympics and again in 1988 at Seoul.
McCormick's daughter, Kelly Robertson, competed on the same Olympic teams as Louganis. She won a silver medal on springboard in 1984 and a bronze in the same event in 1988.
Pat McCormick won the James Sullivan Award as the nation's top amateur athlete in 1956, the second woman to do so.
Born Patricia Joan Keller on May 12, 1930, in Seal Beach, California, as a youngster she was known for executing dives that weren't allowed in competition while practicing off a bridge.
"She was good at everything she did," Kelly Robertson said. "She wasn't afraid of anything. She was super tough."
McCormick won 26 U.S. national titles, second all-time among American women, from 1946-56. She was undefeated at national championship meets in 1951 and 1954, winning all 10 titles available to women in those two years.
She won gold on platform and silver on 3-meter at the 1951 Pan American Games, and she followed up with gold on both events at the 1955 event.
McCormick was inducted into the International Swimming Hall of Fame.
She was educated in Long Beach, attending Woodrow Wilson High, Long Beach City College and Cal State Long Beach.
After her Olympic career ended, McCormick did diving tours and modeled for Catalina swimwear. She appeared on the game shows "To Tell the Truth" and "You Bet Your Life" in the 1950s.
She served on the organizing committee for the 1984 Los Angeles Games and started the Pat McCormick Educational Foundation in 2010.
McCormick was an adventurer who climbed Mount Kilimanjaro, traveled down the Amazon River, skied in Switzerland, body surfed, competed in horse jumping and got her pilot's license.
"Her life was so wonderful," Tim McCormick said. "She was quite a spitfire. She lived her life to the fullest her way."
McCormick's former husband, Glenn, was a diving coach and a pilot who flew them to Hawaii.
"They would go spearfishing and she would come out with two or three fish stuffed in her suit," Kelly Robertson recalled. "She was a trip."
Among McCormick's visitors in her final days was four-time Olympic swimming champion John Nabor, her son said.
Besides her son and daughter, McCormick is survived by six grandchildren and three great-grandchildren. She and her husband divorced after 24 years and he died in 1995. According to her wishes, McCormick was cremated and her ashes will be scattered at sea, her son said.
___
AP Olympics: https://apnews.com/hub/2024-paris-olympic-games and https://twitter.com/AP_Sports
Copyright 2023 The Associated Press. All rights reserved.