Public asked to report hellbender and mudpuppy sightings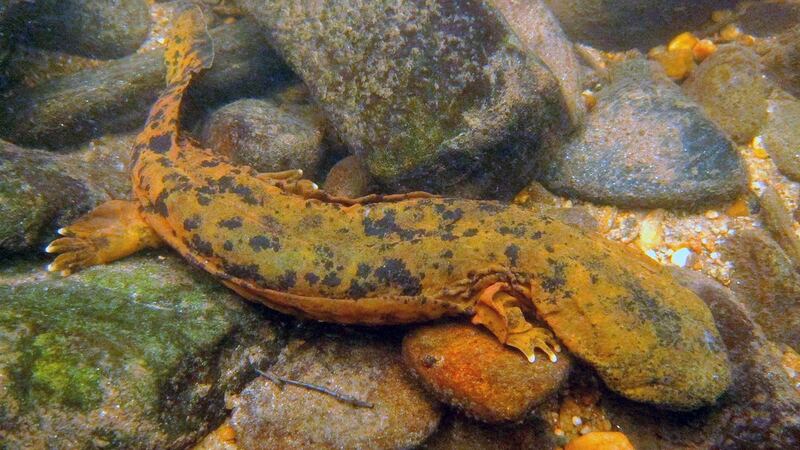 Published: Mar. 3, 2023 at 11:04 AM EST
RALEIGH, N.C. (WITN) - Eastern Carolina anglers are asked to keep their eyes peeled for two types of salamanders if they travel west.
The hellbenders and mudpuppies are aquatic salamanders found in western North Carolina and are listed as species of concern. The North Carolina Wildlife Resources Commission ask fishermen to keep their eyes out for them as they go out for opening day of hatchery supported trout waters on April 1.
Commission biologists want to know how the two salamanders are doing in the wild. Mudpuppies and hellbenders are similar, so the commission gave this breakdown:
Mudpuppies are on average 8-10 inches in length, but can peak around a foot. They are light brown with speckled spots and red external gills. They primarily live in deep rivers, lakes, large ponds and reservoirs, but also thrive in unpolluted streams.

Hellbenders are the largest salamander in the state and can only be found in clean water like the mudpuppies. Typically 16-17 inches long, but can reach two feet. They have flat and broad heads and wrinkly skin blotted with dark brown. They are also called "water dogs", "snot otters", and "Alleghany alligators".
These creatures are bio-indicators of clean water and will likely be where trout are.
"While some misinformation regarding hellbenders still exists, it has been rewarding to watch more and more anglers embrace these animals and their conservation need throughout the years," Wildlife Commission Mountain Coldwater Research Coordinator Jacob Rash. "It's important to remember that trout and hellbenders need the same clean, cool waters, and what's good for one is good for the other. We are very grateful for trout anglers who help spread the word, report encounters, and provide a much-needed ally for our hellbender conservation efforts in NC."
If sighted, they should be left alone and reported. Williams asks that their location be noted (physical location or GPS coordinates), a photo snapped if possible, and any other details shared with her at Lori.Williams@ncwildlife.org. People can also call the Wildlife Commission's NC Wildlife Helpline, 866-318-2401, and provide details of the observation.
It is illegal to take, possess, transport or sell mudpuppies or hellbenders, or attempt to do so. The violation is a Class 1 misdemeanor, which can result in a fine and up to 120 days in jail. If anglers happen to catch one on by hook and line, they should carefully remove the hook if it is safe to do so without harming the animal, or cut the line as close as possible to the hook and return the salamander back to the water.
Copyright 2023 WITN. All rights reserved.