This article below just BLOWS my mind. I find if anything right now people are doing the best they can to get by, I know I am. The fact that this man is alluding to the fact that we're making up financial woes in a way to complain is beyond me. How in the world can someone look at the statistics and say this? The price of gas is..well...I don't have to tell you. The price of food is through the roof. People are losing their jobs, I've seen this in my own family. Companies are having to make dramatic cutbacks. Airlines are jacking up the price of everything, for goodness sake we now have to PAY money just to take our bags!
I actually feel bad for Senator John McCain in this instance, because apparently his camp didn't have anything to do with this..and just so I don't get jumped on here I have not yet decided who I'm voting for in the Presidential election. The problem, as in many elections is that I like some things both candidates have to say and don't like some things as well.
Regardless of who takes office next year, I think the person in charge of leading this country needs to be aware that there is a serious economic crunch right now. I don't think the media is over glorifying it either..we're not making it up that people of all ages are struggling. Now, I understand this doesn't apply to everyone. Some who are comfortable enough to survive comfortably may not feel the pinch as much, but they're still paying 4 dollars a gallon for gas and I'm sorry, I don't care who you are or how much money you have...you're going to step up and take notice or at least do a double take. Perhaps Mr. Gramm doesn't drive!
(CNN) -- Phil Gramm, a top adviser to Sen. John McCain, on Thursday stood by his comment that the country is in a "mental recession," and said he was trying to say the nation's leaders, not its people, were "whiners."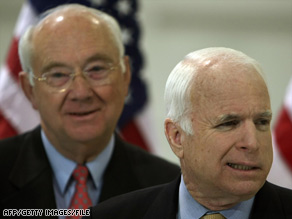 Phil Gramm, left, is an economic adviser for Sen. John McCain.
Democrats blasted Gramm, who advises presumed Republican nominee McCain on economic matters, for saying Americans who have named the economy as a top concern this campaign cycle were "a nation of whiners."
McCain forcefully repudiated the remarks while campaigning in Michigan, which has the highest unemployment rate in the nation.
The comments came in a Washington Times interview published Thursday.
"We have sort of become a nation of whiners. You just hear this constant whining, complaining about a loss of competitiveness, America in decline," said the former Texas senator. "You've heard of mental depression; this is a mental recession." Gramm also said the media was responsible for fostering unnecessary anxiety over the state of the economy. "Misery sells newspapers," he said. "Thank God the economy is not as bad as you read in the newspaper every day."
A McCain campaign source said that not only did Gramm not speak to the Washington Times on McCain's behalf, but the campaign also did not know he was doing it -- unlike Gramm's meeting Thursday with the Wall Street Journal, in which McCain staff were present.